Once again, the Firm and the Lakers have lost. Please listen to this song as you read this blog
.
The Celtics have gone up 2 games to ZERO on the LA Fakers, oops, I mean Lakers and it's getting critical. Lakers stock will fall a million points on the Dow by 9 a.m., Kobe's wife will probably come to my crib to cry on my shoulder, and Phella of the Firm may just check into a mental rehabilitation facility to figure out how in the hell I'm still winning this battle.
Just to put everyone on the same page, he has recruited a ringer who shall remain nameless to photoshop me in awkward situations, in a feeble attempt to win our friendly beef over the playoffs. I love it though.
Phella, in an emotional post-game conference call, blamed the refs for some poor calls, never acknowledging the fact that Kobe "I Love those Christina Aguileras" Bryant missed a ton of shots, the Fakers had a rack of turnovers, and they let LEON POWE have a career game against them. Between sniffles and suicide threats, he clearly said, "Nasir, I'm an emotional wreck right now and I really want a truce, but my pride is getting in the way. How much can I pay you to silently walk away from the war?" I shook my head, realizing the same guy who was found to be the MORON of the year in my last post wanted out. Once I politely declined his offer, he broke down in tears, offering me his collection of vintage South Pole t-shirts and knockoff Polo button-ups. This guy is desperate and I don't know what I can do to help him. I honestly feel bad for him, but all is fair in war. He disregarded the truce, so this is what happens. I called his number back and it was disconnected. His people said this is what he has been reduced to.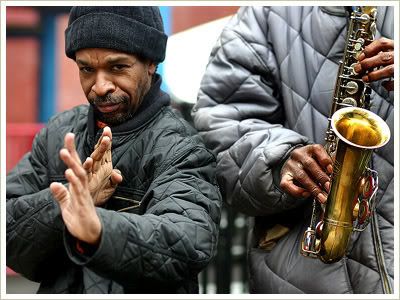 Sadly, Phella aged quickly from stress, lost it all and is re-enacting scenes in local parks as Bruce Leroy, while his sidekick plays the blues for spare change.