Source:www.fashionwithasideoflife.blogspot.com
What's crackin ladies and gents...
It's another Monday morning that we're blessed to wake up, so let's make it a good one. I'm hittin' you with another episode of Shoe Game Vicious and I promise it's a good one. Also, be on the look out soon for some highlights from fashion week, as soon as I've had time to review what came down the runways in NY.
Today's shoe game vicious is for my ladies and I've got a double header for you.
First, Stella McCartney has a wooden wedge pump for the fall and it's looking like insanity on your feet. The construction of the shoe alone is enough to break necks, but check the specifics. It's a taupe patent pump with a wooden wedge heel that is approximately 5 inches and a 0.5 inch platform. It also has a pointed toe, a silver trim and a sculpted silver insert on back of heel. In case you didn't know, Stella never uses leather or fur in her shows as a part of her animal rights lifestyle, but judging by her collections in the past you'd never even miss the fur or leather with the chic designs she puts out.
Who's bold enough to step out in those bad boys????
Up next ladies, it's time to start getting those knee boots for the fall. Don't wait too late or you'll be wearing something 50 other girls have already bought and who wants to look like a marching band group? I hope you didn't raise your hand ! The boot I'm bringing your way is from Steve Madden and it's called "Foxey". It's a take on a Chanel boot that was on the runways, it mimics the cap toe in black patent leather but instead of a plain colored body of the boot, Steve Madden is doing a crisp caramel color with a black zipper up the back. The heel is a mere 2 1/2 inches but this boot is definitely a work staple and can be worn on the weekends for going out to lunch or hanging with your people. They are currently on sale at heels.com for $149.99, marked down from there original price of $198.99. Head on over and get these before they're all gone.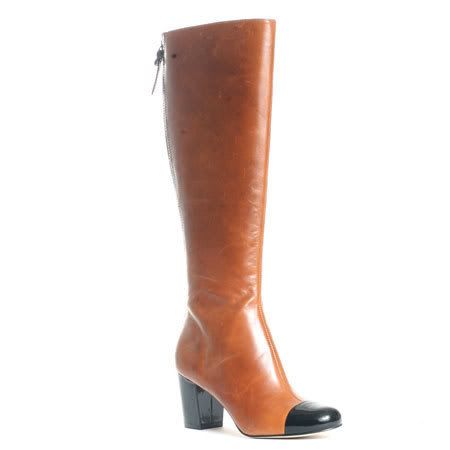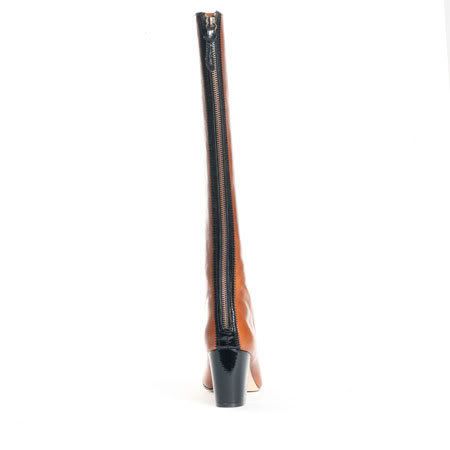 Str8 vicious !
Well that's all from me today Fashion Citizens, stay tuned for fall fashion updates !
...Peace and Love...