"Legendary French luxury goods house Louis Vuitton is re-launching its stylish City Guides for the travel book series' tenth anniversary, with a vintage-inspired look. The Guides, originally launched in 1999, contain the essential addresses of the most stylish locales in world cities. The current saffron yellow color scheme and minimal design is being changed to the brown of its signature monogram canvas, with colorful accents and patterns inspired by vintage Vuitton luggage labels.
The new 2009 Guides, which will feature editions for New York, Paris, Tokyo, Miami, Mumbai, and a boxed set of 32 European Cities, will go on sale starting October 15, Vogue UK reports. In addition, the revamped Guides will feature personal tips from the likes of Italian actress Monica Belluci on Rome and Barneys creative director Simon Doonan on New York."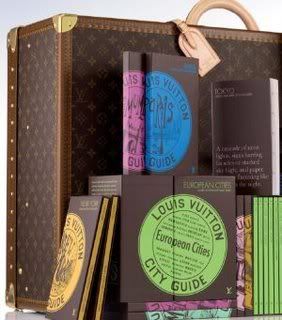 Imagine me getting lost, with a diva in the passenger seat of the coupe and I get lost in Paris.
"Excuse me, would you go in my billfold and past me the travel guide?" She obliges. I hear a loud gasp from her and I glance over, seeing her in a state of disbelief as she stares at a Louis Vuitton travel guide for Paris. Excess . . . I LOVE IT!!!!!!