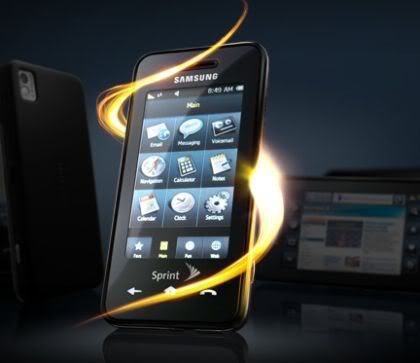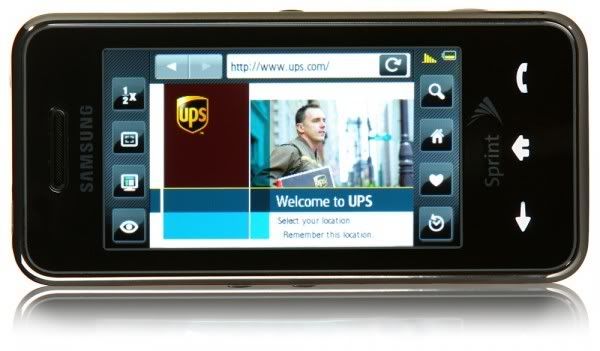 Samsung Instinct, exclusively from Sprint, offers consumers an industry-leading user experience by combining full touch screen functionality with access to the fast speed of Sprint's EV-DO Rev A Mobile Broadband Network. Samsung Instinct provides easy access to Sprint exclusive multimedia content, business or personal email, GPS navigation, live and on-demand TV content, full song downloads, streaming radio and an impressive HTML Web experience. Samsung Instinct offers localized haptic feedback and a new level of customization by allowing the user to access their favorite applications with a single touch. This stylish handset provides an expansive touch screen display and three navigation keys that keep all of the device's features and applications within immediate access. Samsung Instinct offers Visual Voicemail, stereo Bluetooth with audible caller ID, expandable memory up to 8 GB and a 2.0MP camera with camcorder.
ENTERTAINMENT/PERSONALIZATION
Sprint TV with an extensive selection of live and on-demand programming including Sprint Exclusive Entertainment (SEE), the industry's only made-for-mobile sports and entertainment video
programming network
Sprint Music StoreSM allowing users to wirelessly download full-length songs directly to their phone for just 99 cents each
More than a dozen streaming-radio applications, including Sprint Radio with more than 150 channels
Sprint Media Manager PC to phone transfer application
Background music mode allowing the user to play music while text messaging, playing games or surfing the Internet
Customizable Favorites menu
PRODUCTIVITY
Sprint Navigation with GPS-enabled audio and visual turn-by-turn driving directions, one-click traffic rerouting and more than 10 million local listings
Live Search for Sprint, powered by Microsoft, provides easy access to directory information, integrated GPS-enabled directions, interactive maps and one-touch click to call access
Voice to Action button providing many functions using voice activation including call, text, picture messaging, traffic, movie, sports, news and search.
HTML Web browsing
Visual Voicemail allowing users to listen to messages in their order of preference and manage them with a tap of the screen
2.0 megapixel camera with 2x digital zoom and video camcorder
Advanced Stereo Bluetooth Wireless Technology with audio caller ID
Access to corporate and consumer (POP3) email including AOL, Gmail and Yahoo!
Threaded text messaging provides a view of the full conversation
Mobile Sync to restore contact information if the device is lost, stolen or damaged
Phone as Modem connects the phone with a computer for Internet and email access
SPECIFICATIONS
Dimensions: 2.17 x 4.57 x 0.49 inches; 4.4 ounces
Display: 3.1" TFT (240 x 432 pixels and 262K vibrant colors)
Standard Lithium (LiIon) battery: up to 5.75 hours continuous talk time