Without question, this is an atrocity. Anytime a pervert can get PROBATION with NO JAIL TIME for being a child molester, there is something wrong with our judicial system as a whole. We all know about the racially motivated sentencing disparities, but this is unbelievable. Check the text courtesy of the sports network below.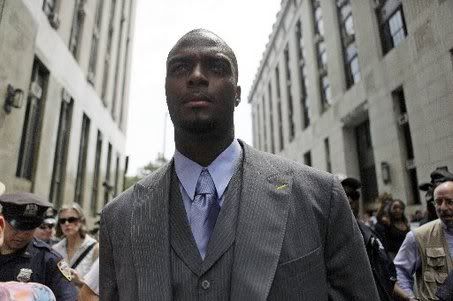 Former New York Giants wide receiver Plaxico Burress was sentenced to two years in prison on Tuesday for a gun charge, stemming from an accidental shooting at a Manhattan night club last November.
Burress, who was set to begin serving his sentence immediately, pleaded guilty on August 20 to one count of attempted criminal possession of a weapon and agreed to serve two years in jail.
A plea agreement with prosecutors led to a lesser charge after he was initially indicted on two counts of criminal possession of a weapon in the second degree and one count of second-degree reckless endangerment on August 3.
Burress was joined by family on Tuesday in the court room, where he made a mostly inaudible apology before being taken into custody.
"I think what just happened in the court room...is terribly sad and very tragic," said Burress' attorney, Benjamin Brafman, afterward.
The former Super Bowl hero will likely serve 20 months in prison, with time off for good behavior, and will also serve two years of supervised release.
Burress, who shot himself in the thigh with an unlicensed gun, was facing at least 3 1/2 years in prison if convicted at a trial on a weapons charge before making the plea agreement.
Brafman had never argued the facts of the case, but during the summer had tried to negotiate a plea agreement that would give Burress the least amount of jail time.
"You can violate the law, be subject to severe punishment and not be a criminal," Brafman added Tuesday. "Mr. Burress used bad judgment and violated a law that has no flexibility.
"Not even the court has discretion in a case where there are mitigating circumstances to impose a lesser penalty."
The Giants released Burress in April. He caught the winning touchdown pass in the Super Bowl after the 2007 season.
Hold your head Plaxico. You made a mistake and they used you as yet another black example. You'll be back. FREE PLAXICO!!!!!!!