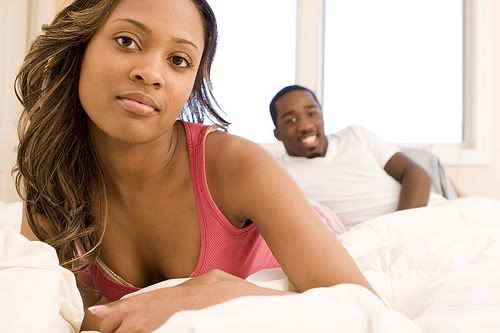 Fellas:
Behind closed doors, you MUST handle business.
I'm going to revisit a conversation I had a few moments ago. Names will be changed to protect the foolish and incompentent.
Nasir: Hello?
*Rob: Man, I need to holla at you...NOW! Can you talk, matter of fact, f-ck all that listen at this.
Nasir:(after shaking my head) What's going on champ?
*Rob: She faked a orgasm on me. This bitch must be f-cking someone else, cause I know damn well when my baby comes. If I find out... I mean...(exaggerated pause) it was like all the usual stuff went down, but she was just doing all this extra sh-t and it seemed fake.
Nasir: *Rob, relax for a minute, why would she do that?
*Rob: She always complains about the fact that I don't take my time with her, but it's like when we f-cking it's all good.
FLAG ON THE PLAY!!! TIME OUT!!!
This was the point when I realized *Rob was messing up the church's money with his lady.
Nasir: Damn homie, did you ever take the time to make sure she was good? Extend the foreplay, give her a twirly aka cunnilingus, sensual massage, mind sex, anything?
*Rob: Nah, I mean...(silly ass pointless pause)I don't be eating no pussy in the first damn place.
FOUL#1
Ya kna mean Nasir? That sh-t is for lames. (at this point I listen to meaningless ramble)This was my response to all of the madness and this also goes out to the fellas who are being selfish behind closed doors.
With a woman, especially YOUR woman, you have to pay attention. Learn what she likes and doesn't like. Take the time to pay attention to everything, from her breathing to her NATURAL responses to your touch. ASK her what she desires and do your best to accomodate her. You never want to be the guy talked about NEGATIVELY in the hair salon, book club meeting, women's waiting to exhale sessions over ice cream and Girlfriends re-runs, or any other venue where a woman will see your silly ass and say: "Girl, look at *Rob's lame ass. I tried to give this (insert hurtful word here) some of this good good and his ass couldn't hang." This is the equivalent of being put on the Summerjam screen or on full blast in the wrong manner. Fellas, I'll say it again:
HANDLE YOUR BUSINESS.
Have her trembling with anticipation when you step in the room. Make her get wet from knowing you are on your way over. You should be putting work in to the point where when she logs on and sees your profile pic, her legs start shaking. If you are on the same page I'm on, that's the leg shake I'm speaking of. If not, step your game up. For every man that won't there are many that will. Next topic: The Morons in the Game who mess it Up for all the REAL MEN.